TAILOUT TAPEMASTER 15 IPS VS DIGITAL MASTER. No limiting/clipping on the Tape output to show the effect of head bump in the lows. Pay attention to the transient shaping! Music by Cuthead via Uncanny Valley. Mastered by Jacob Korn at TailOut.
BOUNCE YOUR TRACKS TO TAPE!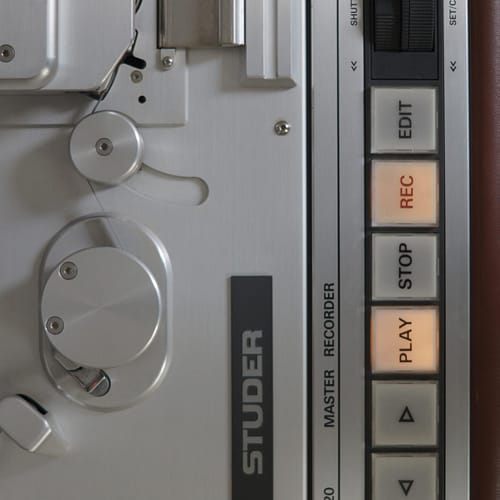 Take advantage of THE master recorder, our freshly recalibrated  STUDER A 820 quarter Inch swiss army knife from 1989…aka the mother of all master recorders.
We accept any of your material like finished pre-mastered mixdowns for mastering to tape, but unlike bigger mastering studios we offer the opportunity to work with your own engineers and send us your masters, mixdowns or even stems to process with our high-end tape machine.
No "LOUDNESS WAR"… peace!
UPLOAD YOUR FILES FOR MASTERING
HOW IT WORKS:
listen to the examples below. select your  service. add to cart.  upload your tracks and paste the link. tell us your preferred saturation character. pay for the service in advance (long term customers will receive special conditions). receive your analogue processed files in 3-7 business days as a digital hi quality download.
We integrate the tape machine into the signal flow of your session with a specially-measured mastering tape (RTM SM468 for more Mojo), thus utilizing the warm, powerful, analog sound we all know and love.
WHY TAIL OUT STUDIO?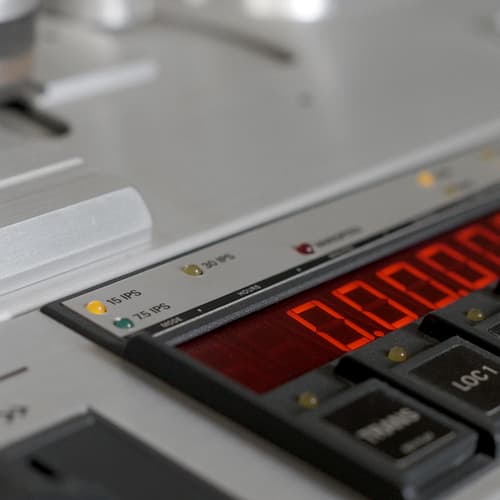 Use our services for final masters, demos, club play or mix referencing. Keep control over your mixdowns! Professional quality tape mastering, available for less than other pro studios (our machine is digitally controlled, that allows recalibration of EQ and Bias on the fly with our own developed software), very quick turnaround time (1-3 business days)
Plus we got a german engineering degree and experience in the game for 20 years.
FAQ: WHAT DOES A TAPE RECORDER DO?
Harsh, digital sounding heights are smoothed out, the depth increases thanks to saturation effects, which also improves the transparency of your mix. The bass range is compressed in a pleasant way, depending on the tape send level, without having an actual compressor in use. Bass and bass-drum blend together to create a fundament that improves the groove feel of your songs. Especially the drums get more volume through tape masters and remain in the foreground, especially in times of high sums limiting.
ABOUT STUDER:
The Swiss manufacturer Studer is the non-plus ultra in the case of tape-machines, our A820 is the top of the line model and was developed specifically for the mastering application. At a price tag of 50000€ it was only used by top studios and broadcasting for instance Abbey Road, Britania Row Studios and Real World Studios, Electric Lady, Electrical Audio (Steve Albini) as well as European/US television/radio until the mid 90´s.
STUDER A820 SPECS:
2 tracks stereo master recorder, ¼ inch (6,35 mm).
Master recorder on trolley with VU meter bridge.
Tape speeds: 30 – 15 ips (76.2 – 38.1 cm/sec.).

Inputs (transformer)

Impedance > 10 kOhm (30 – 20,000 Hz)

Outputs (transformer)

Impedance < 50 Ohm (30 – 20,000 Hz), Load > 200 Ohm

Frequency Response (+/- 2 dB) 

30 ips – 40 – 22,000 Hz, 15 ips – 30 – 20,000 Hz

Frequency Response (+/- 1 dB)  

30 ips – 60 – 20,000 Hz, 15 ips – 30 – 18,000 Hz

Signal-to-Noise NAB (RMS, A-weighted)

30 ips – 75 dB, 15 ips – 72 dB

Cross-Talk (at 1 kHz)

Stereo > 55 dB

Wow and flutter

30 ips – 0.03% max, 15 ips – 0.04% max
Servo-controlled tape transport.
3 DC Processor-Controlled High-Torque DC Spooling Motors.
Processor-Controlled DC Capstan Motor with Low Rotor Mass.
Processor-Controlled Pinch Roller Unit.
Spooling motor control with pulse-width modulation.
Equalization: CCIR – NAB switch selectable.
Tape A and Tape B switch selectable with independent setting and memory storage.
Tape Reel: AEG-DIN (standard), CINE (EIA) -Trident (Optional).
Reel size: up to 14" (35,5 cm) for metal reels or plates.
Balanced XLR input and output.
Digital real time display for all 3 speeds; H, Min, Sec.
Edit mode with Jog and Shuttle function Zero locator; Locator Play, Locator 1; Locator 2, Master Safe-Rec Ready button; Service menu with digitally programmable audio and tape deck setup with non–volatile memory storage; Library wind button to select a reduced spooling speed; Varispeed; Auto-Mute during FF-REW mode.
VU Meters, with independent potentiometers for line-input and line-output.
VU Meters monitor of input or output signal switch selectable.
Rec-Play calibrated and uncalibrated mode, switch selectable.
Built-in monitor speaker and headphone output (jack 6,3mm), for input or output signal.
In Line or Butterfly heads.
Built-in monitor speaker
Spooling time: about 70 sec. for 760 mt. of tape.
Weight: about 91 Kg
Dimensions: H x W x D, 1330 (with VU meter bridge) x 700 x 660 mm.
Power absorption: about 80 W in Stop, 130W Play-Rec, 160W FF-Rew.
Voltage selector: from 100 to 240 Volt, 50-60 Hz.
More Info here: http://www.theaudioarchive.com/TAA_Tape_Studer_A820.htm
DIGITIZING and RESTORATION:
Recording with the best possible analog to digital chain (Studer compensated wow/flutter system and Mytec converters). Possible noise printing and spectral healing possibilities using hi end tools (SpectraLayers Pro, IzotopeRX…) .
Find us on Instagram: tailout_tapemasters
© tail out tapemasters 2023
MerkenMerken
MerkenMerken
MerkenMerken
MerkenMerken
MerkenMerken
MerkenMerken
MerkenMerken
MerkenMerken
MerkenMerken
MerkenMerkenMerkenMerken
MerkenMerkenMerkenMerken
MerkenMerken
MerkenMerken
MerkenMerken
MerkenMerkenMerkenMerken
MerkenMerkenMerkenMerken
MerkenMerkenMerkenMerken
MerkenMerkenMerkenMerken
MerkenMerkenMerkenMerken
MerkenMerken
MerkenMerken
MerkenMerkenMerkenMerken
MerkenMerken
MerkenMerkenMerkenMerken
MerkenMerken
MerkenMerkenMerkenMerken
MerkenMerken
MerkenMerken
MerkenMerken
MerkenMerken
MerkenMerken
MerkenMerkenMerkenMerken
MerkenMerken
MerkenMerken
MerkenMerken
MerkenMerken
MerkenMerken
MerkenMerken
---
Graduated engineer, tutor, live-act and electronic music artist with 20 years of experience.

Dipl.-Ing. Jacob Korn

GRADUATED ENGINEER Media Technology

State of the art analog recording queen from 1989! Adds character to all sorts of material.

Studer a820

mastering grade tape recorder from 1989

DJ & producer since the mid-90s. Our specialist for restoration.

Thomas Smorek

Master of Fine Arts, Producer, DJ & Vinyl Lover
ANALOGUE CHARACTER FOR YOUR PRODUCTIONS
high end tape sound and maximum fidelity for a budget
Smooth highs - rounded bass and mix glue
goodbye harshness - hello warm saturation and punch
customize the service and tell your vision
mastering, mixing or simply transfer your material to tape
Easy to use and quick turnaround
use your cloud service, send the link, paypal us and get analog